With Trav away on the mainland I've had the house to myself all day with the housework sorted first thing I settled down at my table to scrap the day away....... and that's just what I did. I started with Diggory and a beautiful photo taken of him fetching a log from the sea. I used some Cardstock letters I had laying about covering them and myself with clear ink and heat embossing them. This made me remember why I don't use my inks and powders that often as now the table, my hands and most of my tools are covered in jade embossing powder. I'm so messy with powders!!!!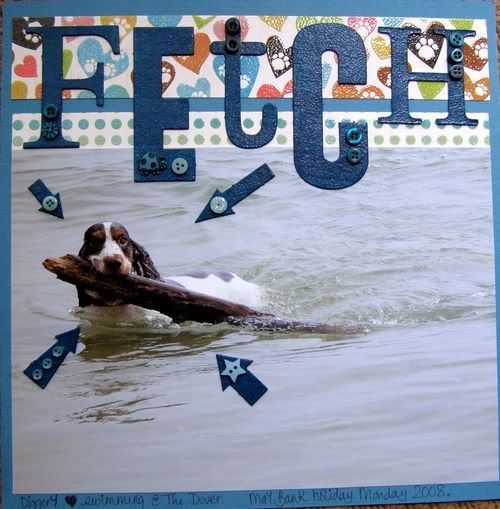 The CS is DCWV, but I can't remember who makes the lovely animal themed papers. I'm loving my Foof-a-la buttons at the mo and and can't use them enough so i had to add a whole bunch of them as well.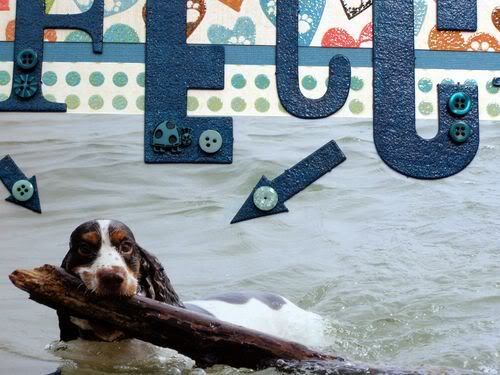 After a walk with the dogs and some lunch I set about finishing off a maze book for my friend Kathryn. She held a party at her flat last week and the theme was "Bad Taste". Please don't think I would normally mix all these mad colours and patterns together but I wanted the book to carry the same Bad Taste theme...... i think it does ;) I used my favorite dye for the lettering adding plenty of brightly coloured ribbons on the pull out tabs.
Here are just a few of the pages, showing the mad outfits that we wore.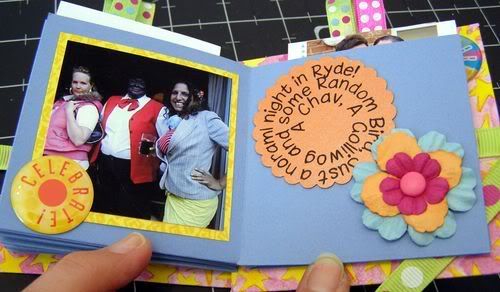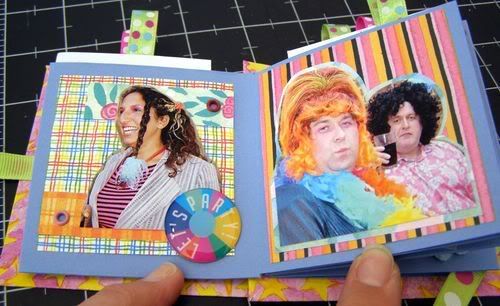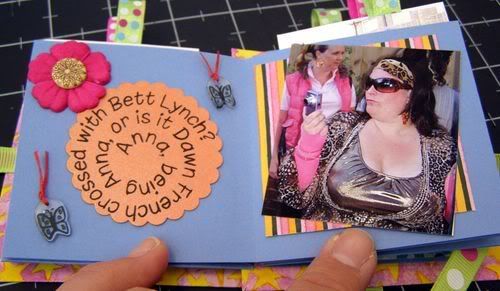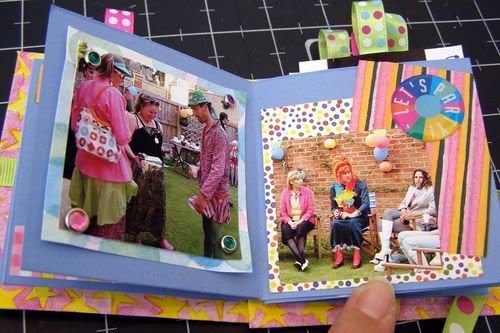 and here is a side view of my maze book, I really enjoyed making this and I know that i shall be making many more of these little books.
I used a mix of papers and cardstock on this one. adding a few stickers and prima flowers here and there.
After another break and a walk around the block the dogs were ready for their dinner and so was I. Without Trav here I was able to had a curry without feeling guilty (he dilikes the smell of Currys) so washing up done it was back to the table to work on my last LO for the day.
A few years back we lost our lovely Grey tabby Charlee, he was just three when I had to have him put to sleep and I miss him just as much now as I did then. This photo was taken back in 2002, Charlee was still just a kitten, maybe 9 months old and he had never seen snow before I remember him being none too pleased about all that cold white stuff laying in his garden.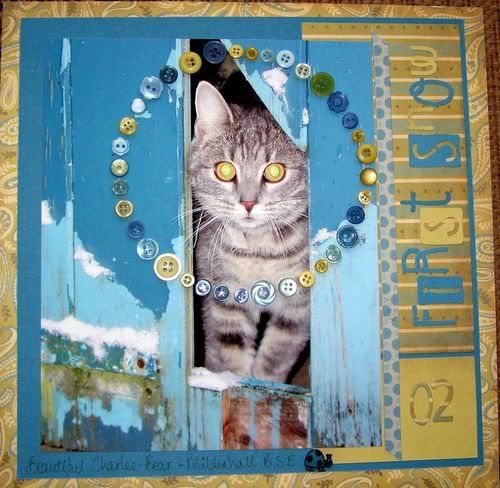 I love these papers they are from We R Memory Keepers, My Foof-a-la Buttons came out again and i used some pretty spotty ribbon I had in my ribbon box. My titling is once more my Doodle BigShot dye.
of course there's one in everything done today.
Now I'm going to curl up with the dogs and watch some telly :) have a lovely Sunday evening everyone.